Royal Fairlanes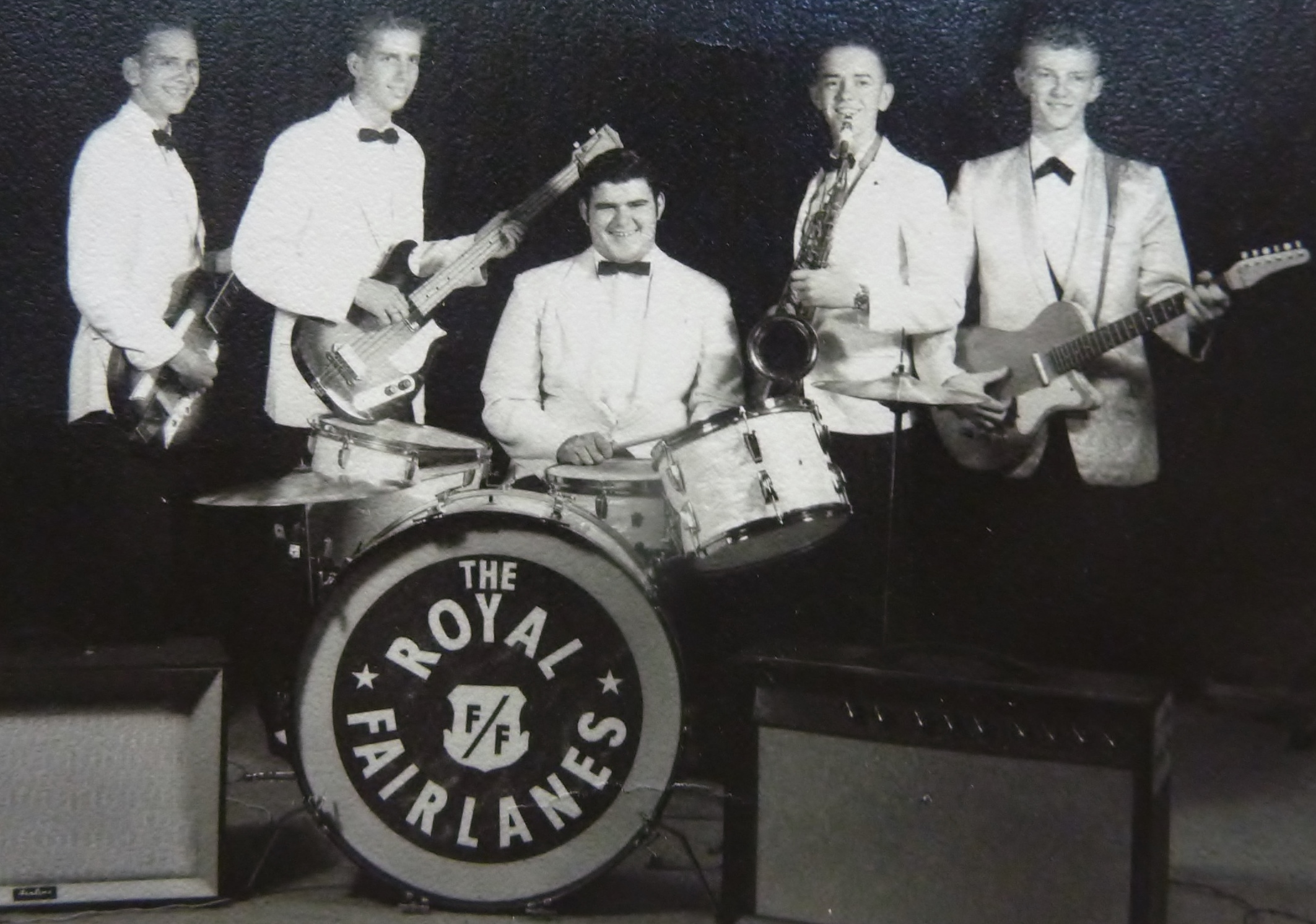 Left to Right Above: Sterling Cox - Guitar and Vocals, Art Cornett - Bass Guitar, Frank Flores Jr. - Drums,
David Andrews – Saxophone and Rod Enlow - Lead Guitar and Vocals.
The band was formed in 1958 as the Fairlanes. The name was changed to the Royal Fairlanes in 1959 when The Royal folded and their leader, Sterling Cox became a part of the Fairlanes.
The Royal Fairlanes existed from 1958 until 1963 when the Viet Nam War draft took away three of the band members. Out-of-town university enrollments affected the rest of the band members.
All of the band members, except Sterling Cox, attended Edison High School. Sterling attended Jefferson High School.
The Royal Fairlanes, primarily a San Antonio Cover Band, worked with KONO and KTSA radio personalities, such as, Ricci Ware, Bruce Hathaway and Bob Sinclair.  The band played at the Teen Canteen and other San Antonio venues in addition to playing for San Antonio public and private high and junior high school dances. During the Spring and Summer the Royal Fairlanes played twice a month on the outdoor patio at the Lackland Airman's Club.
Like many local bands of the 1950s and 1960s, the Royal Fairlanes were managed by the band leader's father, Robert K. Enlow.
The guitars and amplifiers in the photo are Montgomery Ward Airline and Sears Silvertone models, manufactured by Harmony and Danelectro of Chicago. What an awesome sound! Both the guitars and amplifiers are collector's items today. I still have the Silvertone 100 watt amplifier with two 12 inch Jensen speakers, tremolo and reverb. It still sounds awesome today and is a joy to own.
Unfortunately, other than Art Cornett, who lives in the San Antonio area, I do not know what happened to the other guys in the band.
Rod "Rockit" Enlow
[ Home ]
Copyright 2016 by Rod Enlow & SanAntonioRadioMemories.com – All Rights Reserved.