License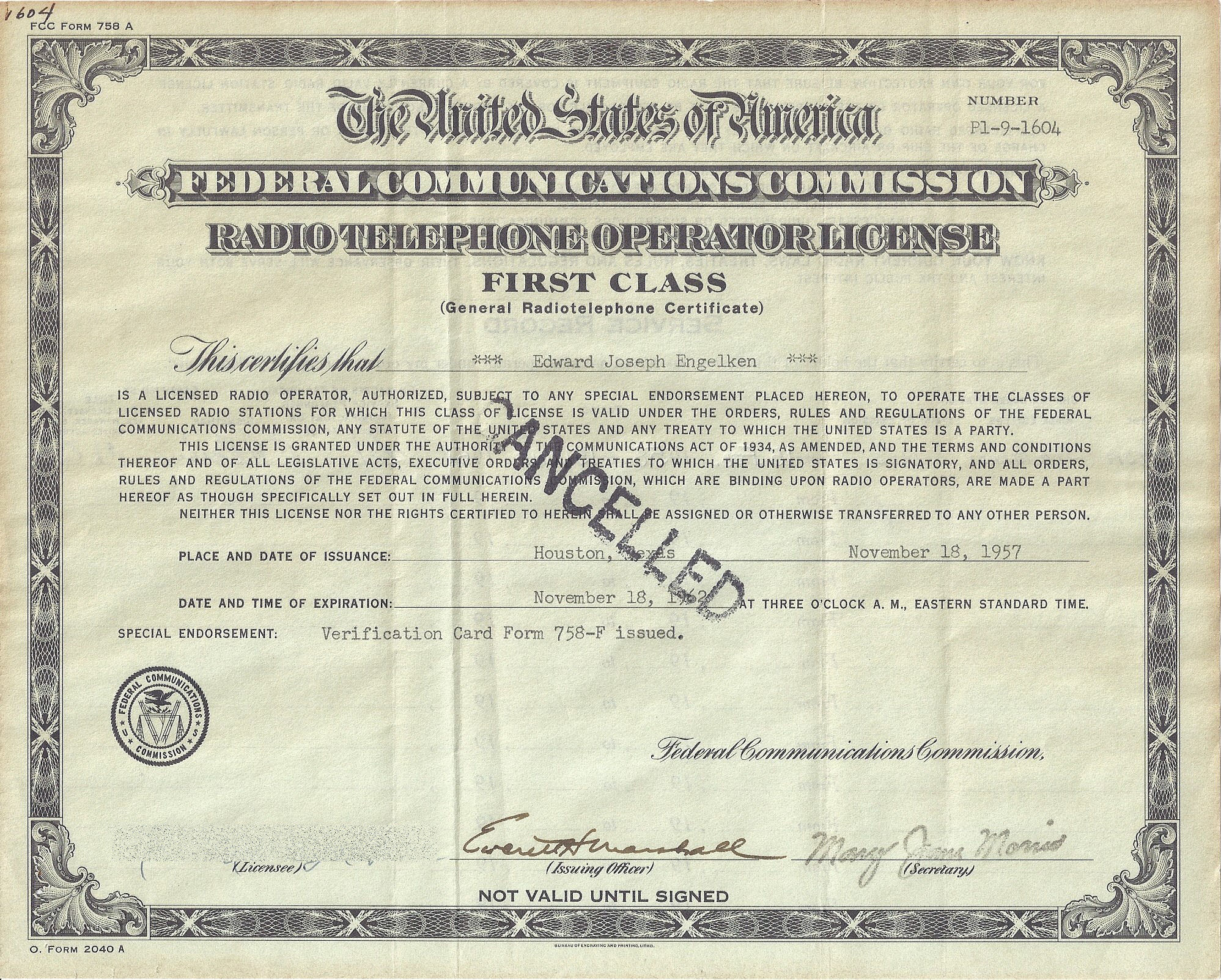 Finding a decent paying job was VERY important as I wanted to attend college and my family didn't have the resources to send me without an extra income source. So...I redirected my interest in electronics and radio to obtaining an FCC First Class Radiotelephone Operator License as soon as possible. I purchased a FCC License Study Guide. I already had a 1953 edition of the Radio Amateur's Handbook. After I spent extensive hours with those two references, I passed my FCC test on the first try.

The next step was to put my hard-earned FCC license to work by finding a job.

I checked in with KONO first, but they didn't need anyone at that time.

My next move was to drop in at KTSA and ask to talk to the Chief Engineer.

The Chief Engineer at that time was Kenneth Hyman. 'Ken,' as he instructed me to call him, was a degreed engineer and was impressed that I was going to seek a degree in physics and math. We must have chatted for an hour or more. Then he gave me a tour of the studios and introduced me to several of the DJs.

After much enjoyable conversation, Ken informed me that there were no openings for an engineer at the moment.

I was disappointed!

However...One of the engineers had showed up for work drunk twice. The engineer had been informed that if it happened again he would immedately be fired.

Ken then told me he would keep my contact information and call me if a position opened up.

Being only eighteen I didn't realize that in many cases, if someone shows up for work drunk more than once, it's only a matter of time before they show up for work drunk again.

It was about 3:00PM on a Saturday (February 15, 1958) when the phone rang. It was Ken who asked me if I could be at the KTSA transmitter by 6:00PM.

I instantly replied 'YES!'

Ken informed me that I was to meet Ray Hettinger at the transmitter and that Ray would explain my duties.
That was the first day of my 3-1/2 year career at KTSA.

Ed Engelken

[ Home ]
Copyright 2019 by Ed Engelken and SanAntonioRadioMemories.com – All Rights Reserved.