John Wayne Remembers The Alamo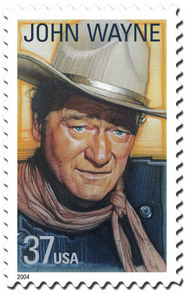 Of all the famous people I met during my career as a radio newsman in the 1970s, the highlight has to be the day I met the Duke himself…John Wayne.
Although I met him late in his career, Wayne was still considered to be a movie legend and a top box office draw. In early 1977 when he returned to San Antonio to accept an award at a convention of postal workers, he was between pictures. He had just finished filming Rooster Cogburn and was searching for another script. That movie would eventually be The Shootist co-starring Lauren Bacall and Jimmy Stewart.
The Shootist is a film about an aging gunfighter with terminal cancer. But, it would be a case of art imitating life because about the time that he addressed the letter carriers in San Antonio that February evening in 1977, he learned that his own cancer had returned. About 18 months after his San Antonio speech, the Duke would succumb to the disease at the age of 72.
I was in the audience to cover his after dinner speech at the Convention Center as a young reporter for KKYX. I still recall how the big man filled the doorway as he sauntered into the room. He was as big in person as he was on the movie screen.
The audio clips below are from the award acceptance speech that night and the press conference afterwards. Although the TV guys pressed their scattered questions early, I managed to nervously squeeze in the last question that night. Because of their length, the clips were never aired in their entirety but I thought they were important enough to save for when my own children could appreciate them.
To me, John Wayne's words are as relevant today as they were that evening when he delivered them in the Alamo City. They reflect the American spirit which only The Duke can put into words. Sadly, it is a spirit which too many people feel we have lost.
Nearly 40 years after his death, John Wayne's speech continues to inspire. To me his words restore hope in the American ideal and faith in the common man. And these words come at a time when I think we need him the most. But...you can judge for yourself. Enjoy the clips.
Rod Rodriguez
John Wayne - Acceptance Speech



John Wayne - Press Conference


[ Home ]

Copyright 2014 by Rod Rodriguez and SanAntonioRadioMemories.com – All Rights Reserved.