My Funniest Interview On The Radio
It was the late 80s. Group W (Westinghouse Broadcasting--one of the best in the business) owned KQXT which was then known as KQ-102. I was doing the morning show and I also had Program Director duties.
KQXT had developed a wonderful relationship with The Majestic Theatre. That meant that every time they brought a Broadway show to town, KQXT staff not only had the chance to interview the star(s) of the show, but also got to go to the cast party following the opening night performance.
The Odd Couple by Neil Simon, starring Tom Poston and Tim Conway was on its way to The Majestic Theatre. They asked me who I wanted to interview from the cast. I didn't even have to think one second about it. It HAD to be the guy who could just walk into a scene on the Carol Burnett Show and break up all the other actors with just a look. "Get me Tim Conway…Please." I said.
Tim arrived at the station shortly before the time of the interview. We had time to chat a bit while a song was ending. "Almost time." I said. "Where shall I sit?" Tim inquired.
Someone had taken the guest chair out of the studio. "I guess you'll have to sit in my lap." I said jokingly.
Without a microsecond of hesitation Tim Conway walked around the desk as I swiveled my chair around. He sat down in my lap. I swiveled the chair back around, flipped on the microphone and we did the interview.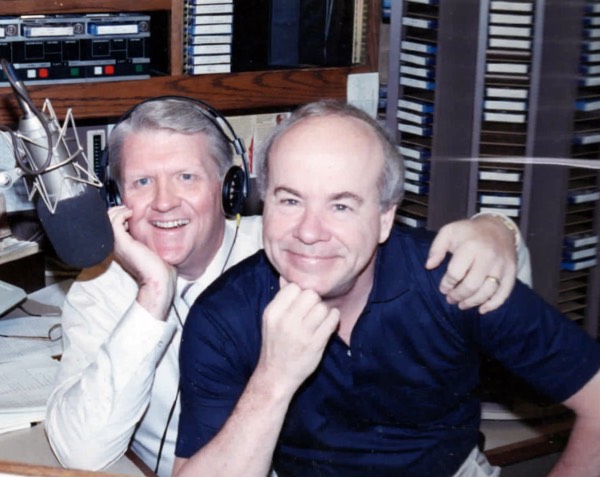 KQXT and Majestic Theatre staff watching what was happening in the control room from the newsroom, were laughing their heads off.
Tim and I talked about how he got started in show business and The Carol Burnett Show. Of course we got in a good plug for The Odd Couple at The Majestic Theatre.
Suddenly Tim asked if we should mention the seating arrangement for the interview. "Is that something you feel we need to talk about?" I inquired. He broke up. I broke up. It was then that we told the audience what had happened with the missing chair. It brought our fun interview to a close.
The next night at the cast party when Tim and Tom Poston arrived, Tim looked over at the table where I was seated and he waved. I wondered if maybe he might come over to our table, sit in my lap and have a drink with us. Tim did come by later to say "Hello." But…He didn't sit in my lap.
That WOULD have made the perfect ending for this story. However, we all know that perfection is a rare thing.
Jim Sharon
[
Home
]
Copyright 2017 by Jim Sharon & SanAntonioRadioMemories.com – All Rights Reserved.